Fantasy MMA betting is growing rapidly, and DraftKings is at the forefront of that revolution. A lot of sites advertise spectacular bonuses and promote themselves very well, but only DraftKings really delivers on those promises. DraftKings offers an amazing first-time deposit bonus, matching 100% of your initial deposit up to $600! Like other fantasy betting sites, though, that bonus comes with a few strings attached.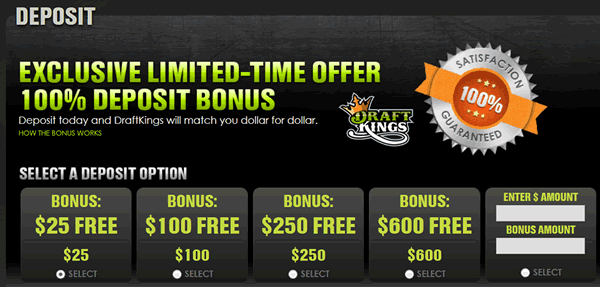 Some new gamblers might be surprised that they can't withdraw their DraftKings deposit bonus instantly, but this is par for the course. We've put together this handy guide which explains how the deposit bonus works, how to unlock it, and a few tips to get your deposit unlocked faster. The key to getting your DraftKings deposit bonus released? FPPs, or Frequent Player Points.
What Are Frequent Player Points (FPPs)?
Every time you join a lobby with an entrance fee, you're automatically earning Frequent Player Points. The higher the entry fee for the contest, the more FPPs you're going to earn.
The number of FPPs awarded is not immediately shown on the list of contests, but if you click on an individual lobby, you will see how many FPPs it awards by looking at the top right of the window that opens.
FPP Bonus Conversions
The key to unlocking your deposit bonus is to earn enough FPPs. Every Frequent Player Point you earn essentially amounts to $.01 of deposit bonus. So, for instance:
100 FPP's = $1
1000 FPP's = $10
10,000 FPPs = $100
60,000 FPP's = $600
As you can see, it would require 60,000 FPPs to unlock the full $600 deposit bonus, and $10,000 to unlock a typical $100 deposit bonus. DraftKings is the only daily fantasy betting site that offers a 100% match up to $600, so we highly recommend taking advantage of this incredible offer.
Monitoring Your FPP
At any point, you can see how many FPP you've accrued with one easy click. From anywhere on the site, simply click "My Account" on the menu bar. On this screen, you will see your account details, including current balance, any available tickets, and the number of FPP you've earned so far.
Why isn't it instant?
While most sites do advertise an instant deposit bonus, this is only technically true. When you make your first deposit, your bonus is determined. So if, for instance, you deposit $100, your bonus is set at $100.
This is where the "technically" comes into play. As soon as your deposit is cleared, that "Pending Bonus" is instantly credited to your account. You can not, however, access it the same way that you could access the money you actually deposited. Instead, it is set aside on its own until you earn enough FPP to unlock it. In this example, you would need a total of 10,000 FP to gain access to your bonus. When you check your account balance on the "My Account" tab, you will see "Pending Bonus" displayed directly below your balance.
Earning FPP and Unlocking Your Bonus
Be aware that you do not need to save up the entire amount of FPPs to unlock your whole bonus at once. Instead, DraftKings will release your deposit bonus in increments. Every time you earn 100 FPPs, you'll be credited $1. This is great, because it means you can earn some bonus as you go instead of having to hustle to unlock the whole thing within the time frame.
"Time frame?", you ask? Correct. Although it may not be immediately obvious, your DraftKings deposit bonus EXPIRES AFTER FOUR MONTHS. This is definitely worth noting, because earning enough points to unlock your full bonus is not exactly a gimme.
For instance, if you join a game with a $1 entry free, you earn 4 FPPs. If you deposited $100, you would need 10,000 FPPs to access the full bonus. That's 2500 games, which is clearly kind of a lot for a four-month period. Obviously, games with higher initial buy-ins are going to give you drastically more FPPs, but gaining access to your full deposit bonus still requires a good amount of work. Below, we've included a few helpful tips for how to successfully approach unlocking your bonus.
FPP Generation Tips
Unfortunately, there's no trick, hack, or workaround to expedite the process of earning FPPs. You only have one option, which is to enter games. Luckily, entering games and making money is what we're all here for, so concentrate on that. Here are a few other handy tips:
AVOID FREEROLLS – Free-to-enter games are fun, and they're a great way to get a feel for how DraftKings works. They don't offer any FPPs, though, so don't spend your time on them.
BEWARE VERY LOW BUY-INS – While it's great to risk a tiny amount and steadily grow your bankroll, it's extremely inefficient in terms of generating Frequent Player Points. That doesn't mean you should avoid these games entirely, but be aware that $1 buy-in games are not going to unlock your bonus very quickly.
DO NOT EXTEND YOUR BUDGET JUST FOR FPPs – Losing a big chunk of cash just to unlock a little bonus is extremely counter-productive. Make bets that you are comfortable with, and take the bonus for what it is – A BONUS! If you miss out on a few free dollars, you've lost nothing. Losing a lot of money on entry fees chasing a bonus isn't a smart plan.
DO NOT RUSH TO MEET THE TIME LIMIT – Similar to the last one. If you see your four months are running out, don't go entering contests just to meet an arbitrary deadline. The point of all of this is to make money. The way to make money is to devise a strategy, stick with it, be consistent, and never overextend yourself. If you get the bonus, great. If you don't, that's fine too. In the long term, you're going to come out way ahead by sticking to your guns. Concentrate on making profitable decisions and let the bonus handle itself.